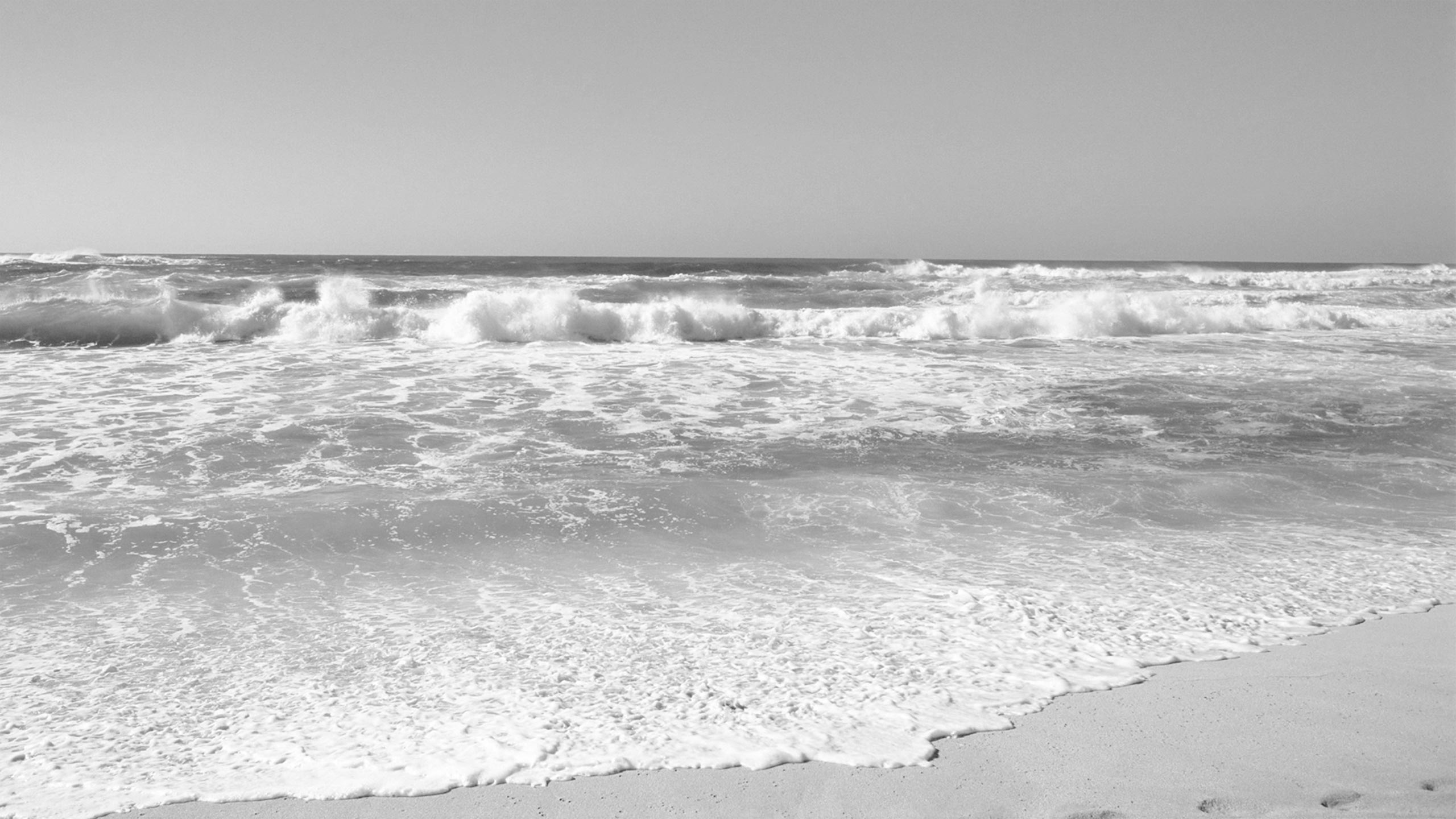 Beaches
Grikos
Grikos Bay is located in the south east side of the island. It is only 4,5 Kms from the Port of Skala. The road follows the lacy coastline that makes the walking from Skala to Grikos a nice seaside walk experience. There is frequent bus connection with several scheduled trips from Grikos to Skala. The bus stops only 50 meters far from the beach! At the beach you can find taverns, a rental office for cars or motorbikes, a coffee place, a kiosk, hotels and appartments and of course sand where you can lay and spend your day on! Grikos is a popular place to stay during summer and it is characteristically calm, even during August where somewhere else may be crowdy. Ideal for family vacation! It has the longest beach, with natural tree shadows and crystal clear water. There is a small island just opposite Grikos bay that is populated by goats and their shepherds. It provides natural protection against wind, except southeast ones, making it ideal for a boat trip or a stop at the marina where the depth of water reaches 2 meters. Most places around Grikos have a view to Kalikatsou, a local monument.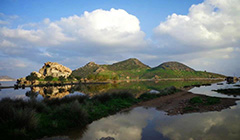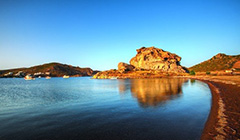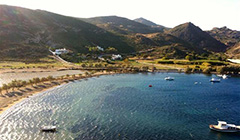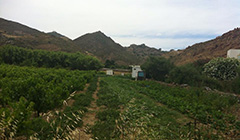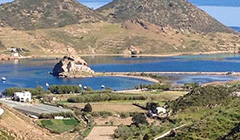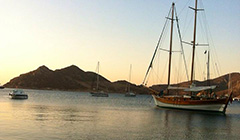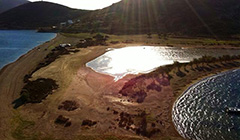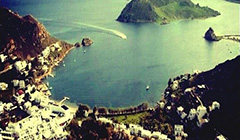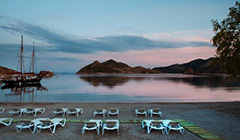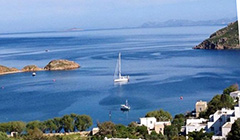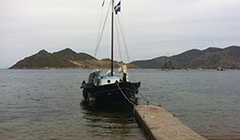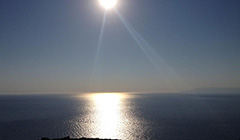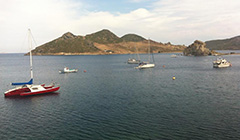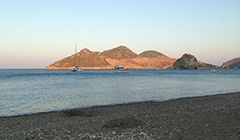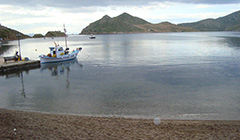 Kampos
Kampos is an organized beach with a (hint of) cosmopolitan aura and is located at the north east of the island. Famous for its crystal clear water, naturally protected from all wind directions. You can find sun beds and water sports activities also. There is an instructor, Andreas Kokkonis, specialized in water ski, wakeboard, wake surf, wake skate and windsurf. If you are fond of speed, a tubes ride will be a pleasant break. We encourage you to try pies at "George's Place" (snack bar-cafeteria), which serves special desserts and fine refreshments.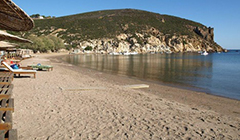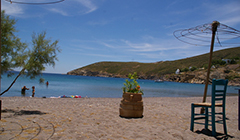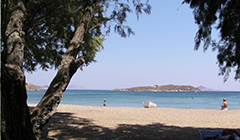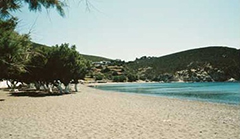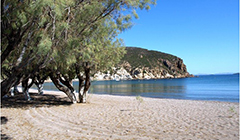 Vagia Beach
Vagia beach is a small beach with round rocks and cold waters, located 7 kms north east of the centre of the island. There, you can find a nice coffee spot, ready to serve you with coffee, homemade pies and special traditional desserts!

Twin Beaches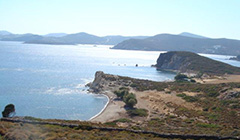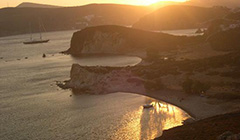 Twin beaches, as their name reveals, are almost identical! They are located next to Port of Skala. They are sandy beaches with crystal clear waters and both of them are on the east side of Kampos beach. Not organized beaches, ideal for nature's fanatics.




Lampi Beach
It is named after its shiny multicolored little rocks. It is prohibited to collect them! The beach has many trees and small taverns with delicious snacks at the edge of wave!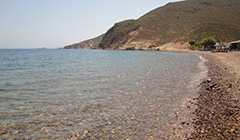 Meloe Beach
Located near port of Skala, Meloe beach has peacefull waters naturally protected by the winds and plenty of trees providing restfull shadow for the tourists. You will find many taverns and of course the public Camping site.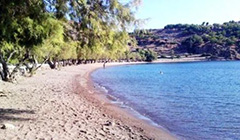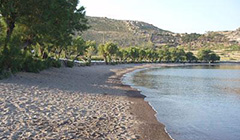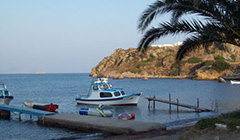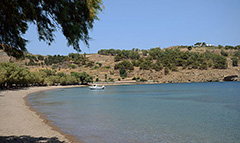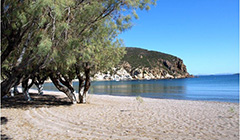 Sapsila Beach
Located between main Port and Grikos, Sapsila beach is the warmest bay of Patmos.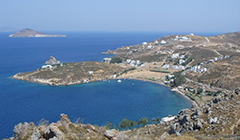 Loukakia Beach
4 Kms from Skala back of Sapsila beach, you will find Loukakia beach. Small rocks is its main characteristic.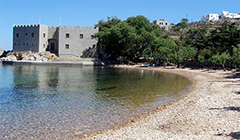 Valley of Geranos (Crane)
This beach has emerald crystal clear water and many trees. Rocky one, with a view at the Aegean sea. It is worth to have a swim at the opposite litle island where you can find the church of Saint's George. If you are a fan of scuba diving this is the place for you! The bay has wonderfull underwater colors!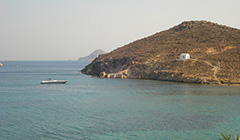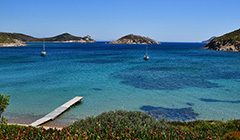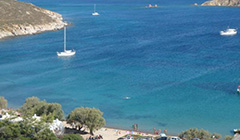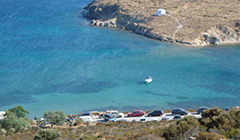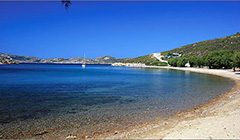 Petra-Rock Beach
Beach of Petra has big rocks and it is well known for its unique beauty. It is organized, so you can find sun beds and beach bar and it is ideal for wind surfing lovers! The little lake next to the beach is a natural piece of art crafted by mother nature and during the winter hosts species like swans, wild ducks and herons.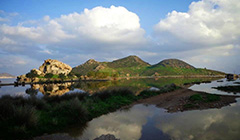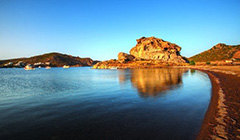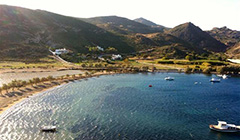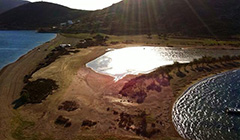 Psili Ammos Beach
Every Island of Aegean sea has a beach named like that. The phrase "Psili Ammos" stands for extra fine sand, also known as "chrysi" (golden) sand. Beautifull beach, which can be reached only by sea or if you are an adventure hiker. At the end of your quest you will be triple rewarded by the Sea, Sand and Sun. Don't carry extra weight on you, there is a small shop for supplies which will cover all your needs during your staying there.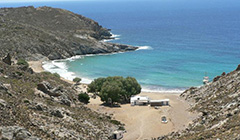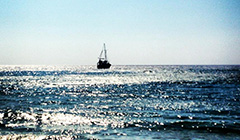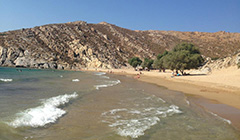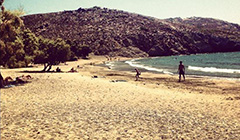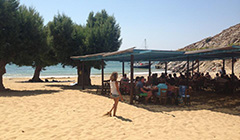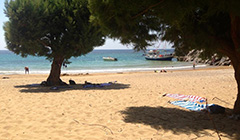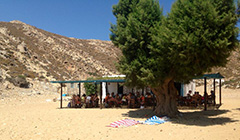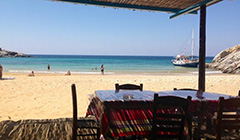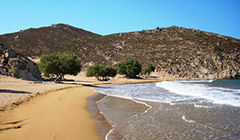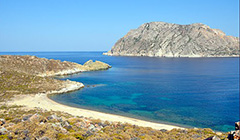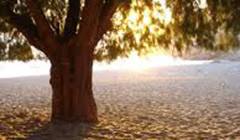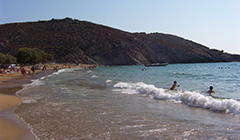 Valley of the Kalogeron (Monks' Valley)
Located at the back side of the island of Patmos, this beach has a unique and wild beauty. It has plenty of trees and rocky caves. There is a canteen with a view to the endless blue! .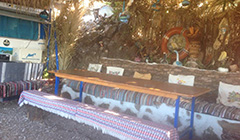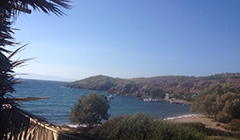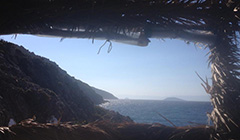 Aspri Beach
Quiet beach with emerald waters, located near port of Skala. It has a tremendous view at the Monastery.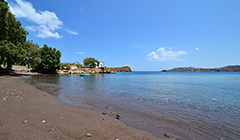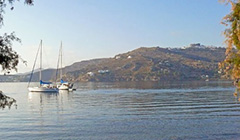 Skala Beach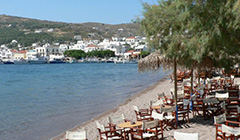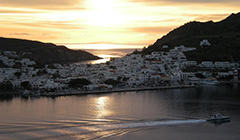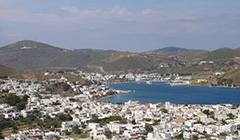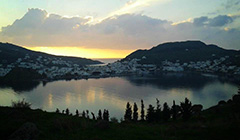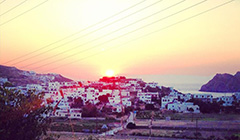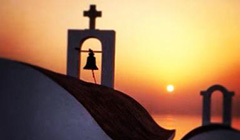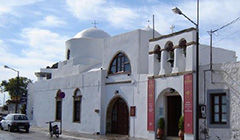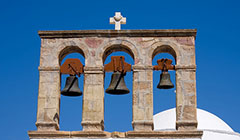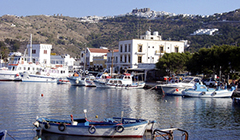 Agrio Livadi Beach (Wild Lea Beach)
Wild lea beach is an organized beach with umbrellas, sun beds and trees. You can enjoy the beach bar and the restaurant with sea foods and appetizers by the sea. Wild Lea beach is a place ideal for water sports-activities such as water ski and sea bicycle.